Jonathan A. Hill
Of The 11th Regiment,
Maine Volunteer Infantry
1861-1866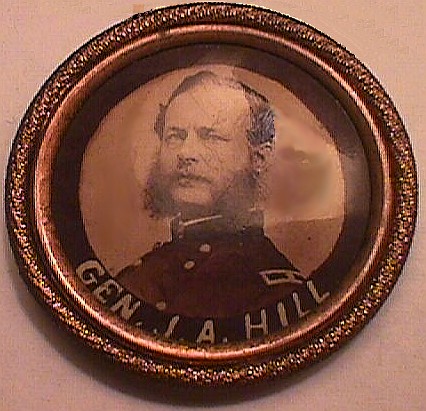 General Jonathan A. Hill
11th Regt. Maine Volunteer Infantry

JONATHAN AUGUSTUS HILL
Civil War Union Brevet Brigadier General. Hill served as Colonel and commander of the 11th Maine Volunteer Infantry. He had his right arm amputated from wounds received at the Battle of Deep Run, Virginia on August 16, 1864. He was brevetted Brigadier General, US Volunteers, on April 9, 1864, for "gallant and distinguished services in the campaign ending with the surrender of the insurgent army under General Robert E. Lee...".
He was born on January 15, 1831, in Milo, ME. He died on October 25, 1905, in Towanda, PA. He is buried at Oak Hill Cemetery, Auburn, ME.
HOME | Writing Resource Page | Genealogy Page | INDEX
CONTACT:
R. Scott Michaud
Washington, DC
For Additional Information